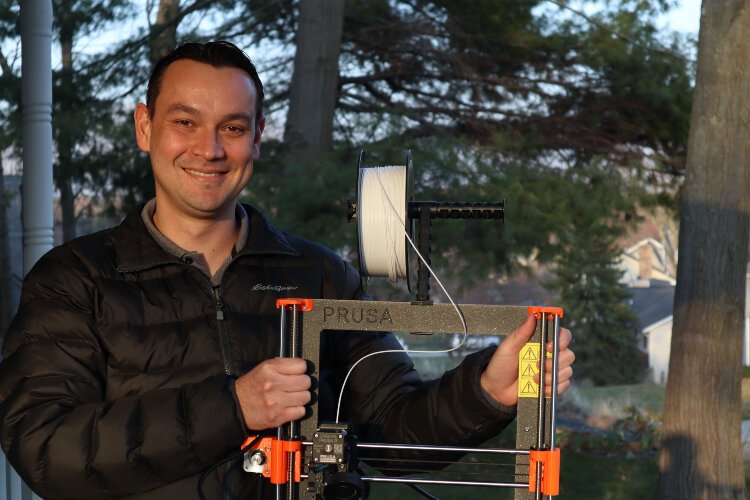 Where to begin with Charles Elwood?
He's a business owner, data consultant, Holland Museum board member, Rotary Club member, STEM education volunteer, YouTuber, and parent. What keeps him motivated to engage with all his projects?
"I write my 'why' every single day."
Two years ago, Elwood came to the conclusion that human potential is unlimited. It led him to quit his corporate job, start his own business, and get involved in a multitude of causes all centered around educating the next generation.
"I don't want to regret anything, I want to take adventures, I want to overcome my fears, and I want to make a huge impact," says Elwood.
Shortly after finding his "why," Charles was able to make an impact by asking a question on his social media accounts in spring 2020.
"Does anybody have a 3D printer?"
Charles and a group of like-minded problem-solvers started 3DC19, a collective that has distributed more than 60,000 pieces of personal protection equipment (PPE) made by individuals through 3D printers, injection molds, and laser cutters. Elwood used his data skills to showcase the number of printers used, how many items were printed, and how the $31,181 in donations was used.
Trust of one another
Elwood says that in the early days of the COVID-19 pandemic, people wanted to help but didn't know how to, and places needed PPE equipment and didn't know how to get it.
"It was really an exercise in learning about how people trust other people. And in the virtual world, it's harder," he says. "So the visualizations help people understand what we were doing and what we were about."
Within weeks of Elwood's initial social media post, the group had a website and a network of 400 printers across the United States. They even had a high school in Texas and Holland-based entrepreneur Jordan Vanderham use their laser cutters to create face shields from donated plastic.
"There were moments when we were so scared," Elwood says.
Still meeting needs
The group was unsure if the donations would become a liability with hospitals or if it was duplicating work done by other organizations across the country. But Elwood says the supply chain was so disrupted at the time that the group didn't want to have any regrets.
"If we didn't do it, there were several places that wouldn't have gotten face shields."
Although the demand for PPE has slowed since spring 2020, the group is still able to meet the needs of underserved areas. Recently, through Elwood's membership in the Rotary Club of Holland, he was able to contact Ken Lone Elk, a Lakota Indian Nation elder of the Pine Ridge Reservation in South Dakota, who needed PPE equipment.
Elwood was able to donate excess PPE equipment from 3DC19 and a 3D printer so the reservation's students could learn how to print their own equipment and develop their technical skills.
Entrepreneurial journey
His curiosity, problem-solving, and networking developed out of his own entrepreneurial journey. Before launching his company, SolisMatica, close friends and family struggled with the risks of him leaving the security of a comfortable job. His parents had previously started a business and failed.
"I realized that they're applying their story to me, and I have to build my own story."
During that same period, Elwood was going through Lakeshore Advantage's SURGE Boot Camp, where he met other like-minded entrepreneurs.
"People are so contained by their fears that they don't go out and take the journey or get other people to take the journey."
The week before he quit his job, Elwood shared the news with fellow boot camp participants.
"I told them, 'On Monday, I'm leaving my job and starting my business.' I put my head down, and all I heard was applause."
Elwood looked up and was surrounded by a group of supporters that gave him the confidence to overcome any fears or uncertainty.
"Without that moment, it would have been hard to continue."
New ways to give back
With the 3DC19 project becoming less of an immediate need, Elwood has continued to explore other opportunities to give back. He recently conducted a design hack for a Microsoft AI tool and is getting more involved in the Holland Museum as a new board member.
Elwood says learning how to tell his story has connected him with like-minded people and allowed him to use his knowledge to help the next generation. With new challenges and opportunities on the horizon, Elwood's "why" continues to give him focus.
"Can I break down these barriers so that other people have the courage to go out and create their own lives?" he asks. "Can I get more people to create amazing things?"
You can follow Elwood on YouTube at SolisMatica and LinkedIn for updates and recent projects.