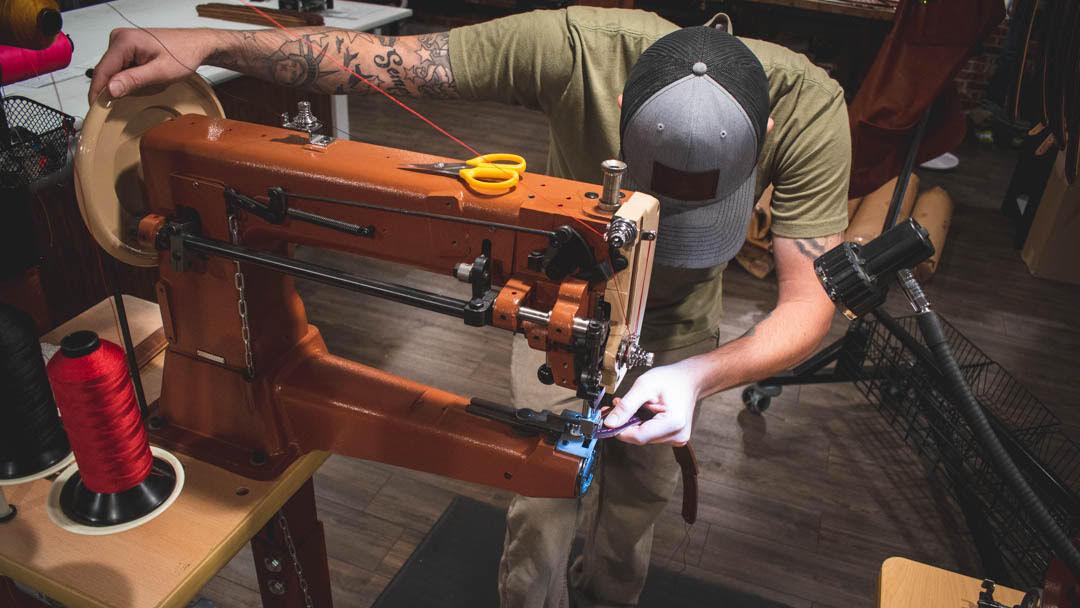 What started out as a hobby for Asheville firefighter Spencer Tetrault has turned into a full-time family business that's been booming, even during pandemic days.
Tetrault lives in the Iron Duff community and began crafting hand-made leather goods that were both detail-oriented and would stand up in his profession. The hobby eventually turned into a "side hustle" dubbed Axe and Awl Leatherworks and now is a bustling business that employs three family members full-time.
As a firefighter, Tetrault was familiar with the radio straps that make perpetual readiness much easier for those who know their radio is a lifeline, both for themselves and others.
"You have to have your portable radio with you at all times," he said, noting many stuff them in their pocket, which is both cumbersome and unhandy.
While there are several types of radio straps on the market, Tetrault experimented with a custom strap that can be worn across the torso and has a basket that holds the radio. His custom-made product has a microphone that floats around the collar and the strap protects the radio, as well.
It turned out the straps were extremely popular. When one or two firefighters in a station bought one, orders for more invariably came in.
Tetrault registered his business in 2015 and as orders continued to grow, his wife, Courtney, left her job as an emergency room paramedic the following year.
"The business kept growing but it was a fine line to walk," he said. "We couldn't push too hard because if demand was too high, we couldn't handle the volume of work. We were throttling back our business so we didn't bite off more than we could chew."
In December 2019, Tetrault left his job at the Asheville Fire Department to work at the business full-time.
"The outcome has been incredible," he said,
Product lines have expanded to include utility belts for other professions, duffel bags, toiletry bags, key chains, wallets, valet trays, apparel, purses and lots of belts.
Since Axe and Awl Leatherworks products are made in the Tetrault's basement, marketing is handled by word-of-mouth and online.
In fact, YouTube videos shot by the couple to show how their hand-crafted products were made caught the eye of a leather company and the Tetraults began making videos for them.
"Courtney handles all the painting," he said. "All the letters and symbols on items are hand-painted. She also handles shipping, which is a big job."
The couple used to attend half a dozen or so large trade shows a year — trips that made up a large chunk of their business. With the pandemic, their travel has ceased, but other marketing efforts have filled the gap.
"The growth this year has been very unexpected for us," Tetrault said. "We put a lot of effort into it and launched a rebrand two months ago. Fire service is a very tight-knit community, and we have a base of customers and friends who are really incredible."
He estimates 75% of the marketing for Axe and Awl Leatherworks is done through social media.
"Really, Instagram is our biggest revenue generator," he said. "We have a unique style of sharing what we do daily with Instagram and engaging our customer base with snippets of us working in shop and products in progress. Our following has exploded."
In turn, orders grew so much the couple needed more help, so they hired Courtney's brother, Travis.
In addition to a unique, quality product and good marketing, Tetrault said it has been hard work to grow the business to this point.
"Courtney and I are the type who appreciate hard work," he said. "There's not many things that replace hard work. We genuinely enjoy what we do. For us, making things with our hands and sending items all across the world is so neat and very humbling. We never anticipated anything to go nuts or be at the scale we're at. We're very grateful."
The next step for the Tetraults is opening a retail location in Waynesville, something they anticipate happening by the middle of next year.